Meet Kyle Kraus, an Employee/Owner at FEMA Corporation, a Major Supplier of Hydraulic Manifolds and Solenoid Valves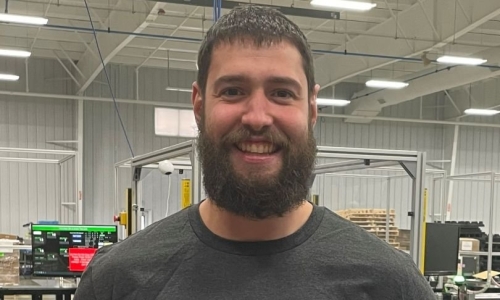 Meet Kyle Kraus, an employee/owner of FEMA Corporation, a major supplier of Hydraulic Manifolds and Solenoid Valves. Kyle has been working as an Applications Engineer at FEMA, responsible for discovering new business opportunities along with sustaining existing customer relationships, since June of 2019.
Prior to working at FEMA, Kyle was a dual sport collegiate athlete competing in football as a defensive end along with track & field where he completed 10 events in the decathlon at Alma College. During Kyle's freshman year, he met his girlfriend, Shelby, who was a track star there, breaking records and winning all conference.
Kyle grew up south of Grand Rapids in the town of Middleville and currently lives in Galesburg. Kyle enjoys hunting, fishing, and home improvement projects. He is very active in the FEMA chess club and has set state powerlifting records in his free time.