Groundbreaking Ceremony for a Front Office Addition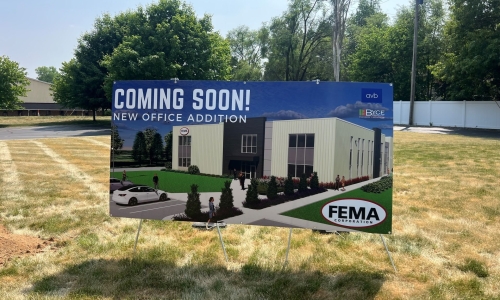 On Monday, June 5, 2023, FEMA Corporation employees gathered outside their Portage facility to celebrate a groundbreaking ceremony for a front office addition.
CEO, Steve Pride, commented as we break ground to expand for a new office building, we reflect on what Mr. Bob Banfield said when founding FEMA: 'they just want a good place to work, our job is to help them achieve that.' Over 50 years later, we continue to strive to make this a good place to work for employees. This new office building will be over 21,000 square feet providing many new benefits for internal and external customers.
VP of Engineering and Applications, Jason Schutter added that this is an exciting day for FEMA and the employees, thanking everyone for making this possible. He remarked that today, FEMA utilizes world class manufacturing techniques and automation to build our products. This approach requires engineering talent and has been a differentiator for us in our markets, resulting in something we are very proud of. Now, we are excited to create a new and modern workspace that will serve many different teams within the organization. It will help with recruiting, assist in retention, improve collaboration, and bring a new face to our facilities here in Portage. This is an investment in the company and the community that we are all very excited to announce.