Component Manufacturing from FEMA Corporation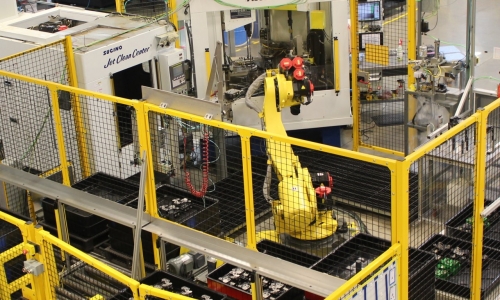 Our foundation is based on growth and the strength of our clear business strategy, excellent technical capabilities, infrastructure, and robust processes. We are a domestic U.S. producer with proven high levels of quality. FEMA Corporation is a world class source of zero defect parts. We are a learning and adaptive organization dedicated to delighting our customers.
At FEMA, our engineering supports component manufacturing by being heavily involved in the new product development process. The engineering effort is done concurrently with product design to improve communication. Our component manufacturing process embraces open and candid interchange with purchasing and quality, along with consultation and support when dealing with outside suppliers and customers. Emergency support is always available as needed. Component manufacturing is available for both short runs and long runs.
FEMA component manufacturing produces a large share of our production turned and milled parts for top level assemblies using numerous CNC machining centers. Custom component parts are also available in various materials with diameters up to 51mm on CNC Lathe and Swiss Dual Spindles. Learn more about the applications served by FEMA's Production manufacturing:
Open loop piston pump displacement control
Multiple hydraulic manifold/casting packages for off road systems
Turbine fuel controls
Marine gear box controls to modulate clutches
PTO modulating and brake control valves
Mechanical front wheel drive solenoid control valves
CVT control valves for hydro-mechanical transmissions
EH retarding
Industrial Equipment Controls
Actuators
Power shift clutch control
Hydrostatic transmission proportional control valves
Injection mold pressure controls
Transmission Control
Autonomous Braking
Fuel Controls
EH Lube/Cooling
Fan Drive Control
Steer by Wire
Brake by Wire
Pressure control valves for main stage relief valves
Automotive reverse lock out solenoids
Magnetic latching solenoids for large on road vehicle transmissions
Proportional pressure regulating valves to control charge pump pressure
Proportional valves that control mobile hydraulic spool valves on off road equipment (construction, Ag, and mining)
Diff Lock actuators and Creeper valves
Manifold valves
Other applications