2022 Supplier Excellence Recognition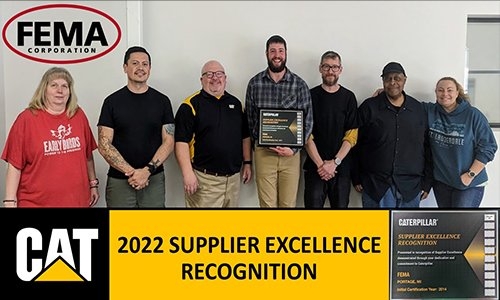 FEMA Corporation proudly announces its continued recognition by Caterpillar, a global leader in the industry, for achieving the highest accolade of Excellent status through the esteemed Supplier Excellence Recognition (SER) program.  This award marks FEMA Corporation's ninth consecutive year achieving Caterpillar's top supplier honor.
Though new categories were introduced in 2022, the SER process remains unwavering in its mission to identify and honor the top-tier suppliers within the Caterpillar organization. Distinguished by stringent benchmarks for quality, delivery, and technical support, this recognition underscores FEMA's unwavering commitment to excellence.
FEMA had the privilege of welcoming two members of the Caterpillar organization to our facilities, where a formal award presentation was conducted.  To learn more about FEMA's latest achievements and explore opportunities for collaboration with an Excellent supplier of Caterpillar, please contact our team without delay.